The Guardian looks at the contemporary Art market in China.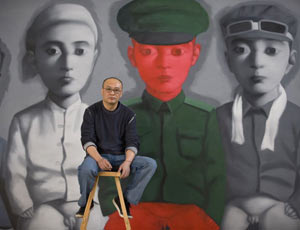 Above: Zhang Xiaogang. (Photo: Dan Chung)
Dylan C. Lathrop writes: This stimulating article was featured in the US section of the Guardian on Wednesday. Jonathan Watts discusses the booming Chinese art market and tracks the money flowing into China, but also the growing concerns of commercialization and the negative impact it may be having on the creative process.
Chinese artwork has been booming over the past seven years, so how does such a movement deal with commerce in its infancy?
More interesting to this conversation, within the global context, is how much money is flowing into the economy from the sale of artwork in China. That number used to be based primarily on sales from abroad, but over the past three years there has been a 30% increase in domestic sales from nearly zero before that. Chinese middle to upper-middle classes are growing and now can enjoy the splendors of cultural luxuries such as art.
That kind of increase in spending directly ties to those (terrifying? thrilling?) projected numbers of growth in China and India. This flux of economic identities between east and west paints a very interesting backdrop for this discussion of the practice of art and commerce in China.